Pro-Line Sand Paw 2.0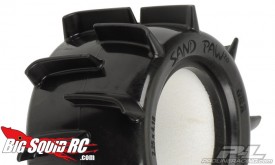 Want to tear up the dunes? Rip through some snow? Check out Pro-Line's new Sand Paw 2.0 2.2″ tires! Why are they version 2.0? Well, Pro-Line has changed the rubber compound to give them even longer life to keep you out and bashing.
Blaze over to Pro-Line and grab a pair. Summer will be over soon, and winter is right around the corner!