Pro-Line Scrubs 2.2″ 4WD Buggy Fronts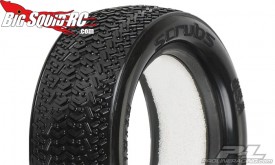 If you need some new front shoes for your 1/10 scale 4WD buggy, Pro-Line has you covered with their new Scrubs 2.2″ tires. They are avaliable in soft, super-soft, and clay, come with foam inserts, and an angled bar design for superior bite. They are avaliable later this month.
As always, be sure to hit up the Pro-Line website for all the specs!