Pro-Line showing off new wheels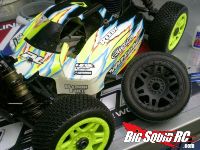 The Pro-Line blog is showing off a new set of wheels that they're currently testing. The only info they give is that the new V2 Split Six wheels for 1/8 scale buggies are extremely light and are going to be the 'Hot' setup for buggies and short course trucks with the proper adapters. Looks like they're going to be sporting a faux bead-lock look as well.
Check out the Pro-Line blog for a couple more pics.