Pro-Line Street Fighter 2.8″ for Traxxas Style Bead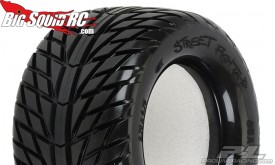 If you're a hardcore street basher, big, knobby tires just aren't for you. If you happen to bash a Traxxas Stampede 2×4/4×4, Jato, or Rustler on the street, check out Pro Line's Street Fighter 2.8″ tire built specifically for Traxxas Style bead rims! These tires are built to be a direct replacement for Traxxas tires on Traxxas style rims, or Pro-Line rims of the same style. These tires should help keep your vehicle hooked up when you need it to be, and burning out when it comes time to show off.
Take a look at Pro-Line online for more info!