Pro-Line Street Fighter and Split Six SC Tire Review
From: Pro-Line Racing
Direct Link: Pro-Line Street Fighter SC Tires
Direct Link: Pro-Line Split Six SC Wheels
Review by Cubby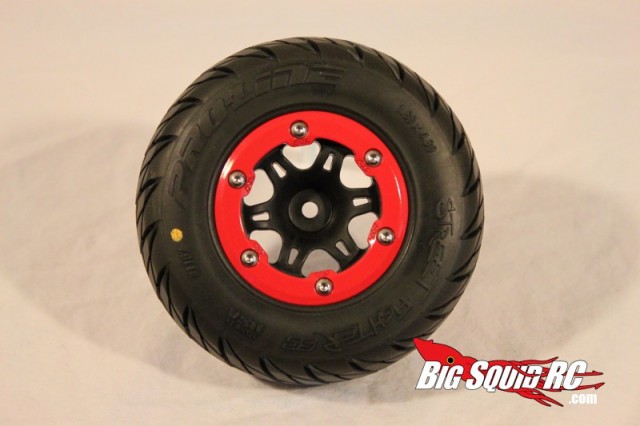 If you are truly a core BigSquid reader, then you don't spend much time on a track, you spend most of your time bashing. In fact, that's what the vast majority of rc'ers do, they bash- from city parks, to empty parking lots, to suburban cul de sacs, if there is an open enough space, then it's the perfect place to get some wheel time.
Pro-Line has some uber new tires for your short course truck called Street Fighters. Do they live up to the famed Pro-Line reputation? Are they worth your hard earned cash? Let's dive right in shall we??

The Specs–
Compound- M2 (Medium)
Insert- Closed Cell
Bead Size- 2.2″ outer, 3.0″ inner
Outer Diameter- 109mm
Maximum Width- 47mm
Weight- 162 grams each (ready to drive with rim and insert)
Directional- Yes
Street Price- around $22 per pair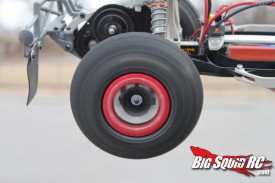 Fit– We installed the Street Fighters on two different trucks, a HPI Blitz ESE, and a Traxxas Slash. We used Pro-Line Split Six Bead-loc rims for both of those applications. The Street Fighters mount up perfectly on the Split Six rims with absolutely no issues, and the Split Six rims mounted up perfectly to both of our test trucks. Btw, the included closed cell foams make mounting the tires even easier, kudos to PL for including them.
Wear– The M2 compound used on the Street Fighters is a great compromise of good traction, and long wear. We did experience wear on our test Street Fighters, but not an extreme amount. Both of our test trucks had some pretty burly brushless power installed, enough power to slick out knobby tires in just one run. Our test Street Fighters still have plenty of tread/life left even after dozens of WFO runs.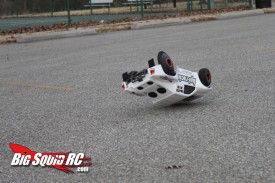 Traction– For reference tires to compare the Street Fighters to, I used stock HPI Blitz RTR tires, Pro-Line Switches, and ground down JConcepts Goose Bumps. On road, for which the Street Fighters are intended, the Street Fighters provided much better grip levels than either of the reference tires. Forward bite was exceptionally good on the Street Fighters, and they also had significantly greater side-bite than the other tires. Also of note- while my reference tires often broke traction very abruptly, the Street Fighters were more forgiving, giving a bit more warning to the driver that they were about to break loose. From concrete to asphalt, the Street Fighters delivered very good traction. But if you are a basher, you are bound to put it on the grass at some point, a place the Street Fighters were never intended for. Traction on grass was minimal with the Street Fighters, so if you plan on doing a mix of on and off road, these are not the tires for you.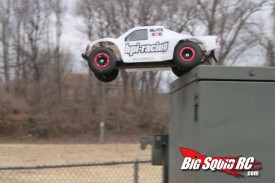 Nothing is ever perfect– There is only one downside to the Street Fighters, weight. Using my incredibly accurate Pelouze scale the Street Fighters (equipped with included insert and PL Split Six Bead-Loc) weighed in at 162 grams. For comparison, a Pro-Line Caliber SC mounted on a PL Renegade rim with a closed cell insert weighs 104, a Pro-Line Switch with included foam mounted on a PL Epic Bead-Loc rim weighs 135, and a bone stock HPI Blitz RTR rim/tire combo weighs 97. The Street Fighters get their additional weight entirely from rubber, they simply have more rubber on their tread than any of the other tires I weighed. More rubber takes longer to burn off, giving them a longer life. But, and there is always a "but", heavier tires are harder for your motor to turn over (and get stopped), and work your suspension harder. In my testing I had no problems with the extra weight, but it might be an issue in some applications- such as when using a stock power system, or if you are already experiencing problems keeping your motor temps in check.
SUMMARY
Time To Bash – 10.0/10 – The Pro-Line Street Fighters install like any other tires, but they are perhaps a bit easier due to their included closed cell foam inserts.
Workability – 10.0/10.0 – Not much to work on with these tires, but I will note that they feature substantial internal ribbing to for increased longevity.
Car Show Rating – 10.0/10 – It was unanimous around the office, these are the best looking SC tires on the market.
Bash-A-Bility – 10.0/10 – They didn't rip or explode, even on 3S cell counts. They proved long wearing. We drove'em like we stole'em and they are still in great shape.
Big Squid Rating – 9.0/10 – Tentacles..Pro-Line is known for putting out the best, and their Street Fighter SC tires are no exception. If you are serious about your bashing and want the best traction on road that money can buy (that will last forever), these are your tires.