Pro-Line Super Swamper Tire Review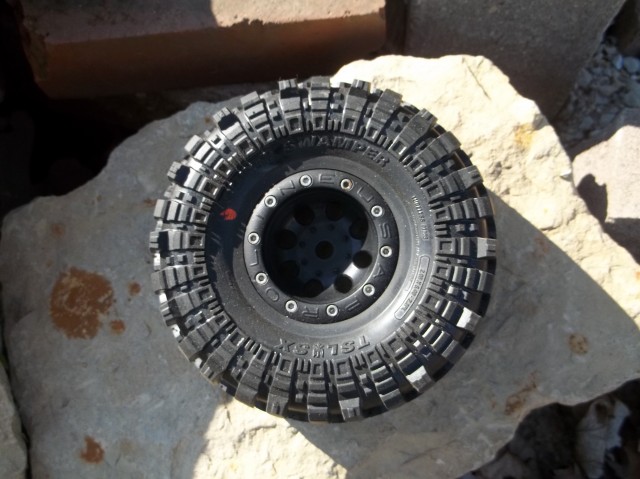 Pro-Line has done it again! These new Pro-Line Super Swamper tires will turn your trail rig into a highly capable scale truck. The tires are so detailed they have even included labels you will find on a real tires sidewall. Keep reading to see all of our thoughts..
From: Pro-Line Racing
Direct Link: Pro-Line Interco TSL SX Super Swamper 2.2″ G8 Rock Terrain Truck Tires w/Memory Foam
Specs:
Height: 5.40″ (137mm)
Width: 2.05″ (52mm)
Foam: Memory Foam Included
Price: $30
Pro-line has went as far as including the max P.S.I. and maximum load capacity on the tire. The tires really stand out on any truck and they perform just as good as they look. Some companies that make scale tires, sell tires that look real but dont perform. A real crawler has low preasure tires so that they conform to the terrain, well in order to get that effect on an r/c car the rubber compound has to be good and soft.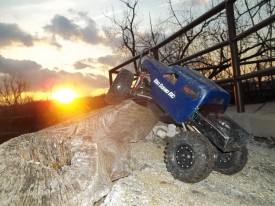 These tires are perfect if you are looking for a tire that looks like a real tire (only smaller) but you dont want to sacrifice the capability of your rig. While testing these tires I conqured almost all the terrains possible; smooth rocks, wet rocks, gravel, sand, and dirt. The truck had no problems at all, they really did improved the capability of my truck and made it look a lot more like the real thing.
When confronted with wet terrains a tire needs to be able to handle soft ground, the Super Swampers had everything it took to power through almost anything that got in the trucks way! When it came time to wrap up my testing, I went ahead and hitched up my custom off-road trailer to test the tires performance while dragging a heavy trailer through the trails. (You can watch a quick YouTube video here). My truck which normally had problems with pulling this trailer off-road, really surprised me when it was pulling the trailer up and over obsticals that I normally wouldnt even atempt with other tires. Overall these tires are absolutly perfect for a scale build that is going to be used on a wide variety of terrains.
Time To Bash – 9/10 – The tires will had to be put on any 2.2 sized rim before u can tear up the trails.
Workability – 10/10 –  They're extremly easy to mout because they are made for beadlock rims so they go on quick and easy.
Car Show Rating – 10/10 –Pro-Line has created a scale tire that looks real enough to fool most when they see pictures. They really figured out what is needed to make an R/C truck look just like the real thing.
Value – 9/10 – At $30 they are a little higher than other crawling tires from Pro-Line, but I think they are probably worth it.
Bash-A-Bility – 10/10 – Im sure these tires will take a beating! I put some serious torque to the ground with these tires and didnt have any problems. I also mounted them on sealed rims so I could go from dry trails to the toughest wet terrain and not worry about soakin the inside of the tires and their foam.
Big Squid Rating – 9.6/10 –  Proline is really stepping it up when it comes to scale products! They have been coming out with a wide variety of new products that make your tuck look as real as possible. The guys over at Proline really deserve a pat on the back after this one.