Pro-Line Trencher X Monster Truck Tires Review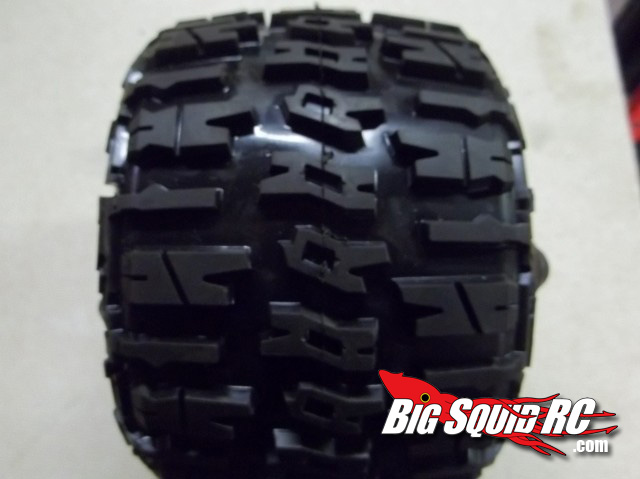 A lot of companies say that they make monster truck tires… But do they really make your truck a monster? Proline has just come out with a tire that will for sure make your truck a monster, they call them their Trencher X tires. Keep reading to get the scoop..
From: Pro-Line Racing
Direct Link: Pro-Line Trencher X Tires
Review by Adam the Intern
Now monster truck tires have to be capable of multiple things because monster trucks are used for a variety of driving. They should be able to hook up on any surface weather it be snow or grass and these tires achieve that in all areas. To test these tires first I just did some bashing, I ran them through gravel, on pavement, and then I went to the track.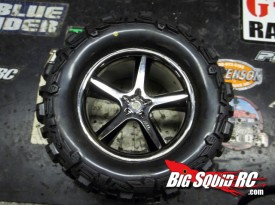 First off the tires are wider than a stock E-maxx tire and are about a half inch taller. So when you install them on an already large and in charge monster truck like an E-maxx it turns it into the king of all monsters. The tires provide more stability and tons more traction on any surface, in turn they make a monster truck unstoppable. When using the tires on gravel or any other loose surface they grip enough to keep you from spinning out but still allow you to slide, to drift or do donuts. The traction that the tires provide is really the best of both worlds and seems to be made for bashing. But when they are taken out on a track they perform like a tire thats made for racing! They handle clay surprisingly well the tires were sticking to the corners and helping me rip wheelies down the straight away.
The tires also expand and stretch at high rpms witch make top speeds higher and means that rollovers are no longer a problem, just tap the trottle and your back on your tires and ready for more bashing. The tires are also nice and soft so they will help cushion big jumps and crashes saving your truck. So all around these tires are the best thing yet when it comes to a tire that you want to do a little bit of everything with.
---
Time To Bash – 9/10 – The tires will have to be glued onto some Traxxas rims before you can start to turn up some soil.
Workability – 9/10 –  I have to say that these tires glued onto the rims pretty easily and I'm no pro when it comes to gluing tires.
Car Show Rating – 10.0/10 – Proline designed a great tread pattern that looks great and works even better!
Bash-A-Bility – 10.0/10 – The Trenchers are great for bashing because they are bigger and better than most monster truck tires. They can be used and will exceed on a wide variety of surfaces and terrains, and they look great which is also important because even basher trucks have to look good.
Big Squid Rating – 9.0/10 –  Proline really nailed it when designing these monster truck tires, they're big enough that no one will push you around but not so big that you'll need to upgrade your power syst to run them.