Pro-Line Valentines Winners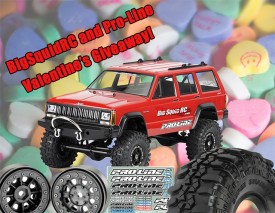 We have our winners in the Pro-Line Valentines Giveaway!! We had a great response, and thank you to everyone that entered! It shows us you like these giveaways, and we need to keep doing them.
Special thanks to Pro-Line for supporting the giveaway. Make sure to go visit their page for more great products!
The Big winner is Jeff (indyz@) from Indianapolis, Indiana. You win the body, tires, wheels, and all the swag! Watch for an email from us to get your sizes.
Our runner up was Matt W. (rcoverload@) from Massachusetts. You win a Big Squid RC shirt, and stickers! Watch for an email also…
Thanks again to everyone who entered, watch for another giveaway real soon!