Pro-Line warms up some new tire molds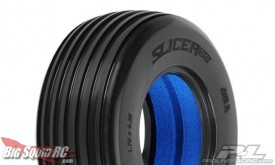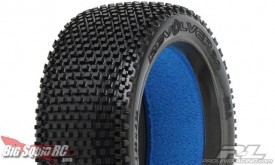 Pro-Line has added a couple new tires to their vast collection.  The Slicer SC reaches back to those heady days of stadium trucks and their ribbed front tires.  Featuring six ribs across the width of the tire, Pro-Line claims that the Slicer SC offers the best steering performance on all types of track conditions.  Each pack comes with reusable, closed-cell foam inserts and fits all 2.2″/3.0″ short course style wheels, including Pro-Line's own Bead-Loc wheel.  They will be available in the soft and sticky M3 compound or the longer lasting M2 compound and they should start shipping later this month.
1/8 scale buggy drivers shouldn't feel left out, the new Revolver 2.0 is made just for you.  They're based on the old, world championship winning Revolver with some changes to the tread pattern that are said to increase traction on a variety of surfaces.  You can also expect to find a pair of closed-cell foam inserts included.  These will also be available in both M2 and M3 compounds and be hitting the market later this month for prices just north of $20 per pair.
Check out the Pro-Line website for more info.