Pro-Line XXX-SCT/SCB Front Inboard Hubs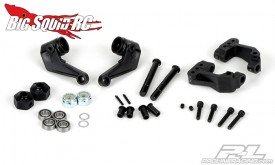 Got a Losi XXX-SCT or XXX-SCB and want to run Pro-Line's 12mm ProTrac wheels or any other "zero-offset" 12mm wheel? Grab yourself the new XXX-SCT/SCB Front Inboard Hub kit! This kit replaces the hubs and axles to run a 12mm floating hex which allows you to then run the wheels mentioned above. This also includes any wheels made for the Losi-Ten SCTE or the Associated SC10 4×4. This kit does add 0.1″ of width to the front of your vehicle, but still ROAR legal!
Be sure to hit the Pro-Line website for more info!