Product Spotlight – AKA Roadblock SC Tires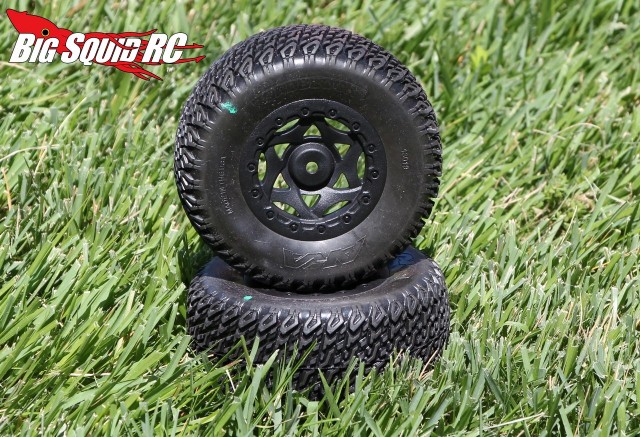 When AKA announced their new do-it-all Roadblock SC tires, we just had to try a set. We rarely bash on just one surface so we were very interested to see if the Roadblocks would work all the surfaces we like to bash on. With a fresh set of Roadblocks mounted up we grabbed two of our favorite short course vehicles and headed out for some testing.
Our first stop was a hard-packed rc track. On the highly prepped track surface the Roadblocks provided excellent traction, nearly on par with some of the more popular race tires at that particular track. Forward bite was very good and side bite was decent without causing traction rolling.
Before we left the track we did some driving in its parking lot. The Roadblocks provided excellent traction on pavement. Both forward and side bite were very good, and once again the sidewalls did not dig in and cause our test vehicles to traction roll.
Next we hit up a local park, a place with a bunch of different terrain to really test out the AKAs. The first place we went to at the park was a gravel/rock covered lot. Once again the Roadblocks felt super dialed, in fact, we were amazed with how much traction they provided.
At a big grassy area in the park we found the first kink in the Roadblock's armor. The small lugs on the Roadblocks got us through very short grass, but anything taller and they did a lot more spinning than providing forward motion.
Our final stop was a large field of freshly turned over dirt (read- very loamy/clumpy/muddy). We found that while the Roadblocks worked very well on hard-packed dirt, their small lugs came up short on providing traction in deep loam and in mud. We could get our test vehicles around on these surfaces, but there are other basher oriented tires that provide much better grip in these conditions than the Roadblocks.
Overall? We really liked the Roadblocks on a variety of hard surfaces. If you don't drive on much grass or loam they will make a great choice for your short course machine. The Roadblocks are priced at $26 a pair, or you can get them pre-mounted on Cyclone wheels for $39. Click on This Link to get full details over on the official AKA website.
Want to read more of our reviews? Find them at This Link on BigSquidRC.