Product Spotlight – Aquacraft GP-1 Ultra Review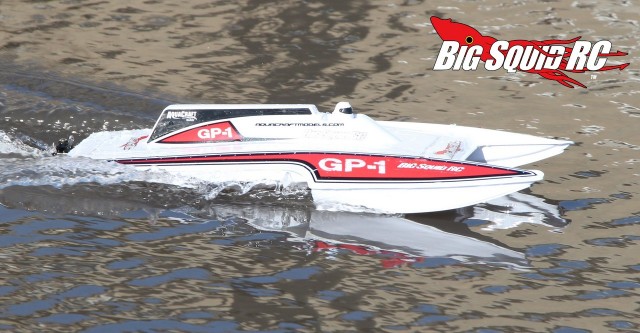 We have been water bashing the Aquacraft GP-1 Ultra for a couple of months now, today we are posting what we found out during our review process.
The GP-1 Ultra is a fairly small (18″) and affordable ($139) Hydroplane boat. Ours came as a Rx-R, meaning it came fully assembled but needed a radio system and battery before hitting the water. Installing a receiver and mounting the battery took us under 15 minutes.
While driving the GP-1 we found out that its powerful brushless motor likes some space to run. The GP-1 has more power than you can use in a small area like a pool, it is better suited to pond sized areas at your local park. We also found out that it likes fairly smooth water. When the water got rough it was difficult to drive the GP-1. While the water was smooth the GP-1 would absolutely rip across the lake.
Out of the box, the GP-1 tended to nose down into the water. This was easy to fix as we adjusted the prop higher and slid our battery pack towards the rear, solving the issue. Once this was done we didn't have a problem getting the boat up on plane and it still cornered well.
The GP-1 comes with a watercooled, 2200kV, brushless system. Combined with an ElectriFly 3S 1200 Lipo it had very strong performance on the water. If this is your first boat you will be impressed with how much power it has.
We didn't experience any issues with our review GP-1 Ultra. Our test unit ran well, didn't break, and never failed to keep a big smile on our faces. If you are looking for an affordable first boat that is easy to hit the water with (and has some real power!), we highly recommend the Aquacraft GP-1 Ultra.
To get more details on the GP-1 Ultra check out This Link over on the official Aquacraft website.
For more boat news on BigSquidRC simply Click Here.