Product Spotlight – ARRMA Kraton BLX 1/8 Monster Truck Mini-Review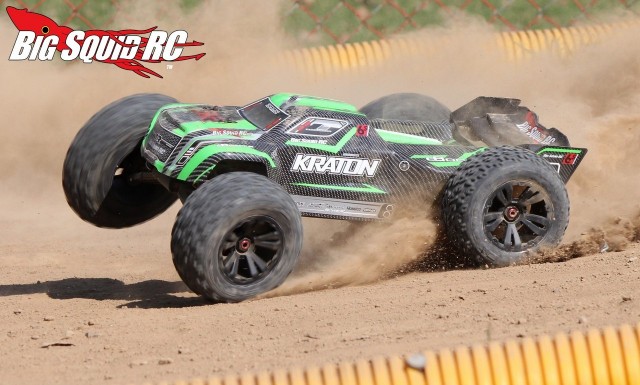 Ever since it was seen at the Nuremburg Toy Fair in January, the ARRMA Kraton BLX Monster Truck has been creating a lot of buzz. The Kraton is not only ARRMA RC's first 4wd, but also their first 1/8th scale machine, hence the reason bashers are biting at the bit to hear how it performs.
Since receiving our review Kraton we've been bashing and thrashing it like the true bashers we are. What did we find out?
* Handling – The Kraton comes with soft sprung but heavily damped suspension, making it handle like a champ. It attacks a track like a race truck, yet it's big monster truck tires love chewing up loam and grass. We also found it soaks up big hits (via multiple roof jumps) like a beast.
* Power – Oh ya, it's got plenty on tap. We normally ran the Kraton on a pair of Reed Wolfpack 3S LiPo batteries wired in series for 6S, and it does not fail to impress with power. On 6S it is a beast right off the bottom, tears through the mid-range, and has tire exploding top end. When compared to the E-Revo, MT4 G3, and Savage Flux, it is right in the mix for power output. When run on 4S it is noticeably softer off the bottom and on top, but still has plenty of rip.
* Durability – We have yet to break a plastic part on the Kraton, but did manage to explode one of the rear tires with all its power (we ended up running Pro-Line Big Joe IIs). The pinion on our test unit came loose, but it was simple enough to pop it back on. We also noticed that the included Deans connectors looked to have been overheated when they were installed at the factory, making them a loose fit on our battery packs.
* The cage used to keep the body from crushing in worked like a charm. Even after lots of abuse the stock body has yet to be destroyed.
* The Kraton comes with perhaps the most powerful RTR steering servo we've ever seen, it truly has no problem throwing those big front tires around. To make sure all that power makes it to the wheels, an aluminum servo arm comes standard, a very nice touch for a RTR.
* We measured the top speed on the Kraton to be 38 mph (on 4S LiPo) and it got there in a hurry.
* Typical bashing moves like pulling wheelies and backflips are easy with the Kraton. Big power and big tires help it pull off those moves even with a center diff.
* While the Kraton might be called a monster truck, it comes with a center diff and a massive rear wing, items typically found on truggies. Speaking of the rear wing, all our reviewers liked how it was molded to match the body lines.
We found the ARRMA Kraton to be a gnarly bashing machine, easily capable of running with all the big hitters in its class. It should be hitting hobby shops in the next couple of weeks with a street price of $499, much lower than most of its competitors. To get complete details, check out the Kraton Page over on the official ARRMA website.
Want to read more reviews? Check out This Link on BigSquidRC.