Product Spotlight – Dynamite Prophet Sport LiPo Charger & Reaction 30C 2S 5000mAh LiPo Battery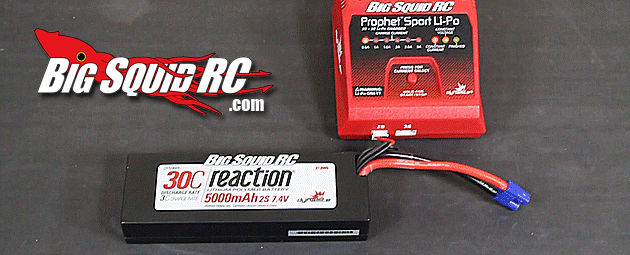 There comes a point in every new hobbyists life when they make the switch from Ni-MH batteries over to Lithium Polymers. It's an obvious progression, LiPos typically yield more performance for the buck.
The crew over at Horizon Hobby have a couple of affordable products for those looking to make the LiPo switch. Horizon offers a Dynamite Prophet Sport LiPo charger and a Dynamite Reaction 2S 7.4V 30C 5000mAh LiPo battery. We've been testing the two for over a month now, today we'll be sharing what we found out.
The Prophet Sport Lipo charger (part number #DYNC2005) is an AC only charger with a maximum charge rate of 3 amps. It is very affordable with a street price of just $29 and works on 2 and 3S LiPo packs. It doesn't do Ni-MH or any other chemistry, but we found it did a nice job charging Lithium Polymers. The Prophet was exceptionally easy to use, just press the button to set the charge rate, then hold the button to start the charge. The Prophet does all its charging through the balance leads, which worked well for us, but wished it came with a longer AC cord.
On the battery side of things, the Reaction 2S 30C 5000 (part number #DYN9005EC w/EC3 connector) comes in at a $49 price point. We primarily used it in our review Vaterra Hälix and in an ECX Torment, and found that it powered both quite well. It had plenty of power on tap and never got too hot or puffed. We normally charged it on the Prophet Sport Lipo, but because it is capable of a 3C (15 amp) charge rate we used a Hyperion 720 on it a few times when we were in a big hurry. We found no ill effects from the fast charging and consider it to be a solid pack.
Overall- We found the two Dynamite items to make a great set. They worked well together and would be a good way to make the switch over to LiPo. We also liked their warranties, 1 year on the Reaction pack and 5 years on the Prophet charger. If you are in need of some new LiPo gear we can recommend both of these products to you.
Click Here for more Dynamite RC news on BigSquidRC.