Product Spotlight – Estes Proto X Nano Quadcopter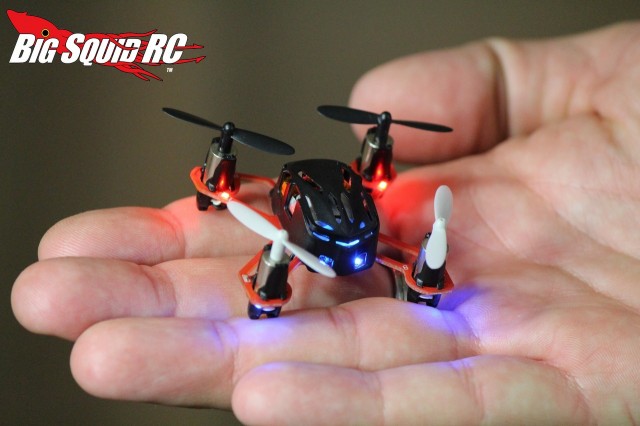 We've been flying (and bashing) the Estes Proto X quadcopter (part #4606, $39) for a few weeks now, it is quite the fun little flying machine. Here in our mini-review we'll tell you what we thought of our experience with it.
Time to bash- The Proto X takes to the air faster than just about anything you can buy. We measured that it took the included USB charger about 6 minutes to charge the battery. Other than that, you had to pop two AAA batteries in the transmitter and you were ready to fly. There was a brief calibration process which consisted of sitting the quad on a level surface before you began flying, but this literally takes 2 seconds.
Ease of flight- If you are used to flying other small quads set on a training mode, the Proto X is harder to fly. Its small size does make it harder to control, but we had numerous first timers fly it with success. Granted, it might take them a couple of packs to get used to the feel, but the Proto X is stable enough even for first timers.
Power- The Proto X has plenty of power. You can fly high, totally dump the throttle, and have more than enough power to pull out before hitting the ground. If you accidentally give it too much throttle, the Proto X instantly jumps skyward.
Runtime- We measured runtimes between 3 1/2 and 5 minutes. The USB charger seemed to like certain USB outputs more than others, on some it wouldn't charge as long and the quad would fly for just over 3 minutes. On other USB outputs it would charge longer and flight times were over 5 minutes.
Bash-A-Bility- The Proto X was tough. We managed to throw a few rotors, but they are easy to pop back on. We also managed to break two rotors, thankfully spares are included in the box. Other than that, we didn't break anything, even after playing quadcopter demo-derby.
General thoughts- I think every member of the bash crew had a great time with the Proto X. The small size of the Proto X means we could fly it just about anywhere, and because it was a bit of a challenge, we kept coming back for more. We highly recommend the Estes Proto X to anyone looking to have some fun in the air.
Want more Estes news? Check out This Link right here on BigSquidRC.