Product Spotlight – Helion RC, Lagos Sport Boat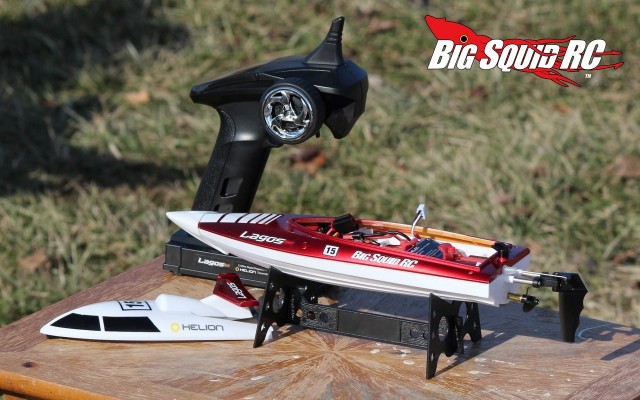 We've spent a few weeks now running and reviewing the Lagos Sport boat from Helion RC. The Lagos is an affordable (street price $59) RTR that comes fully assembled and ready to hit the water. It even comes with batteries and a charger, making it even easier to get going. After letting the BSRC Bash Crew pass around the Lagos for a while, here are some of our thoughts-
* The Lagos isn't an especially large boat (about 14″ long), but it can handle moderately rough water. Yes, you can run the Lagos on a pond. It also tracks very straight for a boat of its size.
* It has good power, even with the stock brushed/Ni-MH power system. It might take a couple seconds to get going from a dead stop, but once the Lagos gets its nose up, it can hit a decent top speed.
* The interior is very well sealed. The hatch cover goes on very tightly, and the entire boat is sealed to keep water away from the electronics. Also, even if water were to get inside, we found the electronics to be waterproof.
* The Lagos Sport can turn quite sharply. It's not one of "those boats" that pushes like a freight train in the water, if you need to pivot quickly, it can. In fact, it can out-turn its own prop bite.
* The ESC and receiver are combined into one unit.
To get more information on the Lagos, simply click This Link.
Want more boat news? Check out This Link right here on BigSquidRC.