Product Spotlight – MaxAmps Quad Lipo Batteries
MaxAmps 1s Lipo Review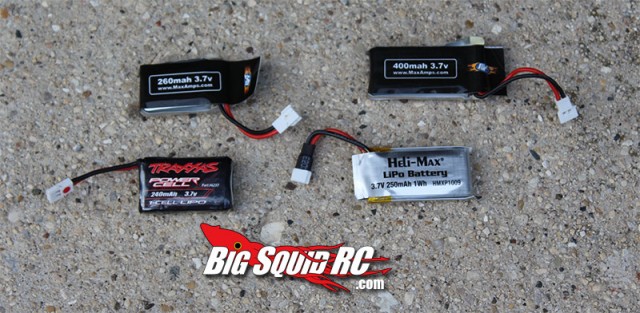 Small Quadcopters like the Heli-Max 1SQ, Traxxas QR-1 and others are all the rage. They are the hot thing in RC right now, and when everyone has them, it's time to look for upgrades. Well, there isn't much you can do to these Mini quads as they are pretty bare bones to keep the weight down, and the usability up. Well that's where MaxAmps comes in! We decided to take two of our Quadcopter Shootout vehicles and compare their stock batteries to some upgraded MaxAmps Lipos.
Even if you aren't looking for a 'upgrade' you will probably want at least one or more extra lipo batteries when you are looking to get in some extended flying time and don't want to wait around to charge the pack again.
First up was the stock Heli-Max pack. It's a 1s 250mah lipo battery. During our testing we averaged about 7 minutes and 10 seconds of flight time. The pack weighs in at 8 grams.
We then swapped in the MaxAmps pack. The pack is a 1s 400mah lipo. We then averaged about 11 minutes and 20 seconds of flying time. The MaxAmps 400mah pack weighs 11 grams.
So we gained an additional 4 minutes+. Some people would say since we almost double the mah we should double the flight time, but you need to take into account the extra weight. We were pretty happy with the results of this upgrade. If you have seen us fly.. 11 minutes of airtime is a LONG time.
Next up was the Traxxas QR-1 testing. The stock pack in the Traxxas is a 1s 240mah lipo battery. We averaged about 7 minutes and 15 seconds of flying time. It weighed 8 grams.
We swapped out the stock Traxxas battery for a MaxAmps 1s 260mah pack. With the MaxAmps battery we were getting 7 minutes and 32 seconds of flying time. A slight increase, but the other interesting thing is that the MaxAmps pack weighs 7 grams. So you actually save 1 gram while getting more flying time. This might not seem like a lot, but to the flying guys, every gram counts.
Our final thoughts, you are going to want an extra battery or two, the MaxAmps packs are a great choice that will gain you flying time, and possibly even save a little weight. The price is right also! $9.99 for the 260 mah pack, and $12.99 for the 400 mah pack.
If you are in the market for some new packs, make sure you check them out!
You can head over to the official MaxAmps webpage for more information at THIS LINK.
| Battery | Flight Time | Weight |
| --- | --- | --- |
| Stock QR-1 240mah | 7:15 | 8g |
| MaxAmps 260mah | 7:32 | 7g |
| | | |
| Stock 1SQ 250mah | 7:10 | 8g |
| MaxAmps 400mah | 11:20 | 11g |
Looking for more MaxAmps product news on Big Squid RC? Hit THIS link.