Product Spotlight – Pro-Line Racing Car Stands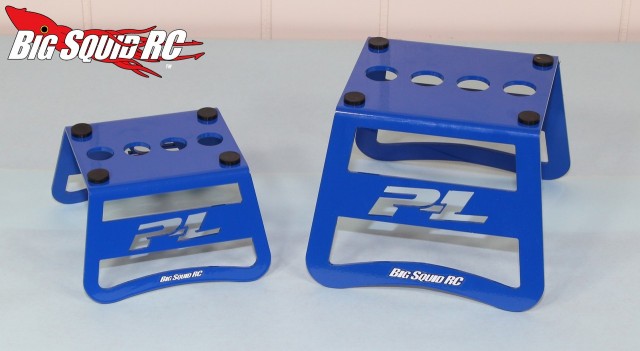 It's hard working on a truck that rolls all over your tailgate or pit table, therefore many hobbyists use car stands when they wrench. We recently got a chance to check out both of the new car stands (1/10 & 1/8) from Pro-Line Racing and here is what we found out-
* We found the PL stands quite sturdy, they could handle the heaviest bashers we popped on them no problem.
* The powder coated finish held up well, even when bouncing around inside our pit box.
* We are used to stands that fold down to save space when not in use. The PL stands are solid but found they still fit easily into a pit box. When not in use we packed ours upside down and stored parts inside of them for a more efficient use of space.
* Our Bash Crew really liked the motocross look of the PL stands.
* The 8th scale stand was plenty tall, even for big monster trucks like the Thunder Tiger MT4 G3 and Savage Flux.
Overall we found the Pro-Line car stands to be top notch and well worth the cash. The Pro-Line 8th Scale Stand is priced at $44 while the 10th Scale Stand is $34.