Product Spotlight – Racers Edge EZ80 Battery Charger Review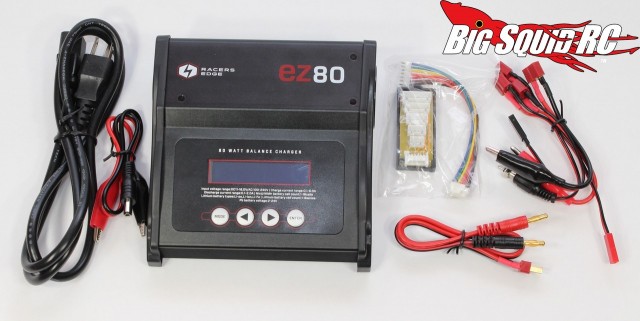 With loads of chargers under the $80 price point, how does one make a dent in the market? By putting out a solid charger and having it seen on places like BigSquidRC of course. The crew over at Racers Edge shot us their EZ80 Multi-Chemistry Battery Charger to try, here is what we found out.
The EZ80 uses a menu that is reminiscent of a number of other chargers on the market, thus it was easy for most of our testers to use. Testers that were not familiar with the menu found it easy to learn, except for one, Iron Mike, who did have to glance at the manual one time to figure out how to properly set the charger for his battery pack.
We used the charger on a number of different packs, but mainly on 2S and 4S Racers Edge LiPOs and an ECX 7 cell Ni-MH RTR pack. We found the quality of the charger was good. All the LiPo packs we charged felt like they had good power after being charged on the EZ80, and the Ni-MH didn't false peak and had good power after a charge.
With a street price of just over $60, the EZ80 charges a wide variety of cell chemistries and has an easy to read screen. It's also AC/DC, so you can use it at the house or use the 12 volt battery in your full size car to power it at the local bash spot. Its maximum charge rate is 6 amps, which is on point for a charger in this price range. The EZ80 can charge up to a 6S LiPO pack, something not all chargers in its price range can do, and it comes with a bunch of different connectors, making it easy to charge just about anything without having to solder up an adapter.
We used the EZ80 for several weeks and found it to be a solid charger, thus we can recommend it to you. To get more details simply click This Link over on the HRP Distributing website.
Want more reviews? We have plenty at This Link on BigSquidRC.