Product Spotlight – Racers Edge PRIME 30 Amp Power Supply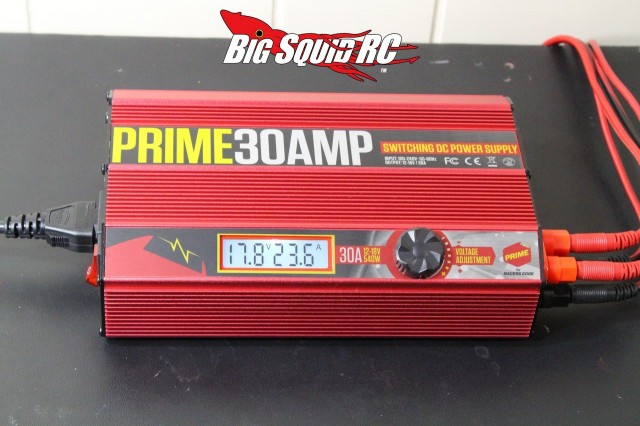 When you need to charge big battery packs at a high rate, you have to have a beefy power supply, and needless to say we charge a lot of battery packs around the BigSquidRC offices. A few weeks ago the folks over at Racers Edge sent us their new PRIME 30 Amp Power Supply to check out (read- abuse), here is what we found out.
The PRIME 30 worked great for us. We continually used a pair of Hyperion 720iNet3 chargers on it, charging a pair of MaxAmps 2S 6500mAh Lipo packs each at 20 amps (336 watts total), and it didn't overheat or go into protection mode. The PRIME is rated for 540 watts, so we weren't even close to pushing it hard.
The voltage is adjustable via a knob on the top of the power supply from 12-18 volts DC. The display is backlit, making it easy to read in dark areas, and it shows how much current is being pulled.
The PRIME comes with a pair of USB outputs which come in mighty handy when charging your cell phone.
The PRIME 30 is stiffly regulated, we only measured a .1 drop in output voltage when drawing over 300 watts.
Perhaps the best thing about the PRIME 30 is its fan. The fan only comes on when needed, and even when it kicks on it is one of the quieter units on the market.
After a few weeks of abuse the PRIME 30 is still working like new for us, we highly recommend you try one out if you are in the market for a new power supply. The part number is #RCEPS30, it has a street price of $129, and you can get more information at This Link.
Click Here for more Racers Edge news on BigSquidRC.