Product Spotlight – RealFlight – RC Flight Simulator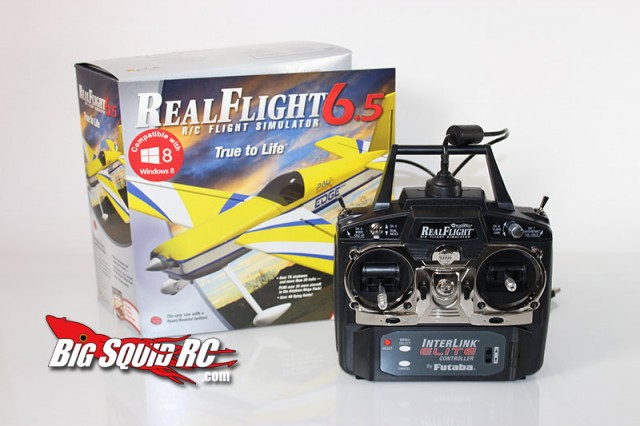 A while back a few of us around the office caught the flying bug. We love bashing vehicles, but planes just don't quite take the same abuse. Our in house pilot 3DBill would take us out, get a plane in the air, and hand us the controls. This would normally result in two things. One, he rips the controller out of our hand and says 'What are you doing!?' or two, we look like we are trying to fly 3D when we are just trying to go straight until we smash into the ground and 3DBill yells 'What are you doing!?'.
So it seemed like maybe we should look into a rc flight simulator. We have seen and played with RealFlight dozens of times at the kiosks located in just about every hobby shop on the planet. Those things are like a magnet, seriously! Have you ever been to a hobby shop and not seen someone messing around with it? So we picked up a copy with a controller and were ready to go!
The software and hardware installed without a hitch, and we were up and running in no time. Our version we were using was 6.5 (They update often) and consisted of literally 100's of air vehicles. From foamies to giant scale planes, helis and quads. Nitro, gas and electric, it has them all! If you can't find your perfect plane, you can tweak and modify them to get what you are looking for. There are also dozens of cool looking locations to choose from, as well as different scenarios. They also have tons of built in tools/training software to cover take off and landings, flight instruction, and more. I'm not kidding when I say you can start just about any question with 'Do they have…' and the answer will be yes.
To keep this short, I'm just going to mention some highlights of our experience. All the planes feel different, and this was awesome. I started off flying a 'foamie' because they are pretty easy to save yourself when you get into trouble, and they have a feel just like the real things. Then I changed over to a large scale plane, and whoa what a difference! I know I'll never fly a large scale in real life, (cost, danger, skill) but RealFlight give you a chance to experience what that would be like, and how it would fly.
The question we always get 'Is it just like the real thing? Will I be a pro after?' The answer is no, but it's darn close. We found that flying planes was slightly easier than flying the real thing. Using RealFlight is a great way to help get your bearings, and learn the controls. I don't panic nearly as much when flying the real thing, as I believe RealFlight has given me the confidence and the skills to fly a little better, and work my way out of situations I get myself into. When it came to flying the quads, it seemed like it's easier in real life than in the simulator. The simulator quads like the 1SQ didn't seem to have as much auto stabilization as they do in the real world. So if you can fly one in the sim, you will have no problems in the real world for sure.
Yes you still crash, and parts/pieces go everywhere. Put it this way, I know never to attempt flying 3D with a nitro heli.. ever. We will leave that to the pros.
I find flying in the sim sometimes tranquil. It's fun to just pick up in the evening and fly for a while. The kids love attempting to fly, and they are getting better. Maybe this summer I'll give them a shot at some real world flight time and see how well their skills transfer over.
You can get the software with a few different transmitter options, or save some money (if you already have a transmitter) and the one with the transmitter interface. Our version used the InterLink Elite controller, and it worked well.
To sum things up, it's fun to fly and experience all the different models. Something you could never do in the real world. It will help (especially new people) learn the controls, and get a better feel of how to fly. It won't make you a master, but it will help you earn your wings. If you have been on the fence about picking it up, we recommend you do, or at least hit your local shop and give it a try in the kiosk. The support they give is top notch, and the constant updates and improvements are welcome additions.
For more information, to check out new versions, or to buy Click Here to head to the official RealFlight webpage.