Product Spotlight – Savox 12 In 1 Driver Tool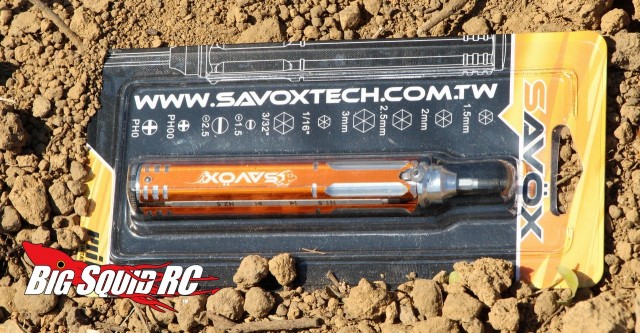 When you bash hard, you break a lot of parts, therefore tools are of great importance to the BigSquidRC Bash Crew. We recently came across a 12 in 1 tool from Savox and had to give it a spin.
Inside the Savox 12 in 1 you'll find-
* 1.5, 2, 2.5, and 3mm hex tips
* 1/16″, 3/32″ hex tips
* 1.5 and 2.5mm straight slot tips
* PH00 and PH0 Phillips tips
All the tips are held inside the wrench until needed, then you slide out the one you need and get to work. We found the Savox multi-tool saved a bunch of space in our pit box and had a nice feel in the hand. It was a very handy tool that was higher quality than other "multi-tool" products we have tried in the past. If you are looking for one multi-tool to save some space in your pit box, the Savox worked well for us.
Street price for the Savox 12 in 1 is $19, the part number is SAVST1001, and you get one from your local HRP/Savox Dealer. Hit up This Link for more information on all the products that Savox has to offer.
Click Here for more Savox news on BigSquidRC.