Product Spotlight – VP Fuels
While it might seem like electric rules right now, every time we go bashing we see people running nitro and gasoline powered cars. No, fuel burning rc cars aren't as dominant as they once were, but there are still plenty of hardcore bashers that will not bash without the smell and sound of nitro/gas.
Over the last couple of months we've been running a lot of VP Racing Fuels in our cars. You may very well already know VP, they are front runners in full size motocross, atv, and drag car racing. We ran a variety of their fuels in vehicles ranging from 10th scale .18 touring cars to 5th scale off-road. What did we learn during our testing?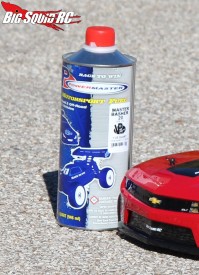 * We ran the VP Master Basher 20% nitro in several of our test cars. We liked how it performed and how the engines ran with it in the tank. Power seemed great and we didn't have any issues.
* On the gasoline side of things, VP sells a pre-mix that is great for 5th scalers called Powermix. If you are unsure how much oil to put in your gas, or just want the added convenience of buying a pre-mixed gas/oil blend, this should be right down your alley. We had good luck running Powermix in our HPI 5th scale gas burners.
Overall- we can highly recommend the VP fuels to you. We experienced no problems and all our engines seemed to really like the fuel. Look for VP at your local hobby shop or you can hit up their Official Website for more information.
Check out This Link for more reviews on BigSquidRC.