QMDRA 2010 Drag Racing Nationals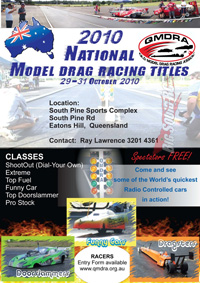 The 2010 National Model Drag Racing Titles event is coming up October 29-31, 2010 down under in Australia. So if you happen to be on that side of the world, and looking to show or see some amazing driving and speed then go check out the event!
For all the information, click the flyer, or the official website
http://www.qmdra.org.au/ go burn some rubber!