Racers Edge 7.4V 25C 5000 Race Battery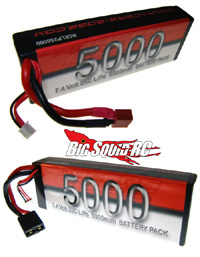 NOW ROAR APPROVED!
Lighter than Ni-Mh with much better run times and performance, Racers Edge releases 2 new 5000 Mah 25c 2S1P LiPo packs available with either a Dean's or a Traxxas connector. These packs use the same balancing connection as Align or Electrifly chargers! As always, be sure to use a voltage cut-off if your ESC doesn't have one and ONLY A CHARGER SPECIFICALLY FOR Li-Poly cells!
Stop by Racers Edge or your local shop and pick one up!