Racers Edge Glitch Buster Capacitor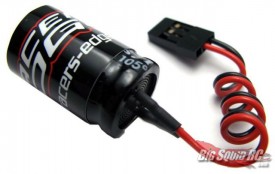 If you're still stuck in the stone ages with non-2.4 GHz radio gear, and you're constantly having problems with glitching, Racers Edge might have a cheap solution for you.  Their new Glitch Buster Power Capacitor is intended to help smooth out those power dips that could cause glitching.  The capacitor is prewired and plugs into any free channel on your receiver, it then takes a charge from the battery or ESC, and stores that energy for times when your servo or other electronics might take more power than the battery alone can provide.
It's a cheap option, only $5.99 MSRP, but it could help solve some glitching problems for you, without having to jump to a 2.4 GHz radio system.  Check out the Racers Edge website for more info.