Racers Edge Pro4 Enduro RTR Electric Short Course Truck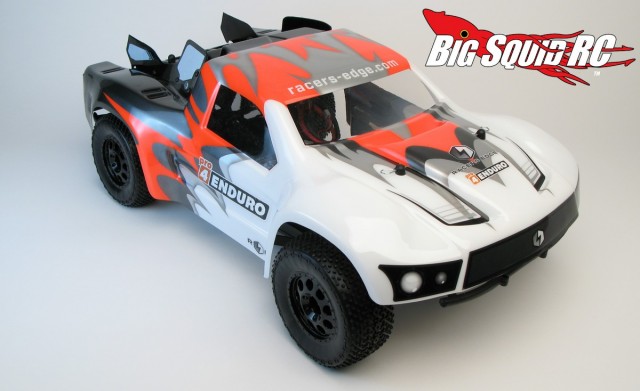 After we first reported Here, the folks over at Racers Edge have released more information and a release date for their new Pro4 Enduro. The Pro4 Enduro is an affordable RTR electric powered 4wd short course truck designed for speed and durability.
* Waterproof
* Three fuild filled metal gear differentials
* 2.4GHz radio system
* 4000kv, 4 pole brushless motor
* 6061 aluminum chassis
* Full set of bearings
* Aluminum threaded, oil filled shocks
* Removable electronics tray for easy cleaning
* Adjustable steel turn buckles
* Release date: mid-October
We posted below a body off shot from the HobbyTown USA dealer convention that shows the Pro4 Enduro requiring saddle packs. From the information released yesterday Racers Edge states that saddle packs are not required, so there have been some changes made. We will be catching up with the Racers Edge people later this week at the iHobby Expo, we'll post fresh under hood pictures when we get them. Until then you can Click Here to view the other products that Racers Edge offer.
Click Here for more Racers Edge news on BigSquidRC.