Radient Ascend Battery Charger Review
THE Radient Ascend Battery Charger Review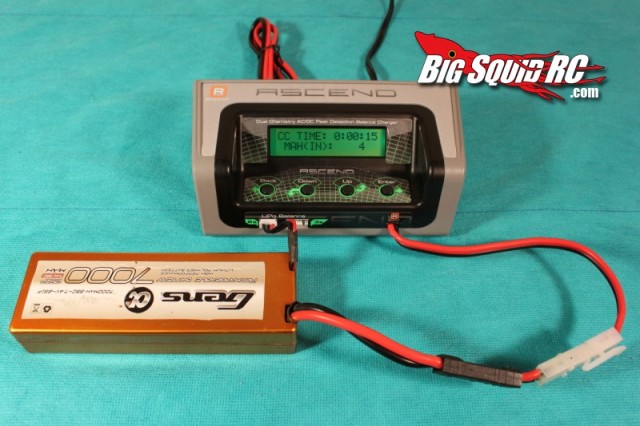 Tired of using that 8 hour wall charger that came with your new RTR? Looking for a quality "do-it-all" charger at a decent price? Have ya seen one of the new Radient chargers at your friendly/local HobbyTown USA and are wondering if it's any good? Well… welcome to Cubby's Radient Ascend review where I'll give ya all the answers.
From: Radient RC
Direct Link: Ascend Surface Charger
Review by: Cubby
Pics by: Cubby
Specs-
Heat Sensor: No
Connector: Tamiya, Mini/Micro plug
Weight: 350 grams
Max Charge Rate: 6 amps on 2S Lipo (DC) or 4 amps on 2S Lipo (AC), 4 amps on 3S (DC) or 3 amps on 3S (AC)
Max Cell Count: 3S Lipo, 8 Cell Ni-Mh
Cell Chemistries Supported: NiCd, NiMH, LiPo, LiFe
Model Memory: No
Discharge Mode: No
Balance Charger: Yes
Balance Plug: JST-XH (2 and 3S)
AC/DC: AC and DC
Warranty: 90 Days Limited
Street Price: $60
Primary Competition: Duratrax Onyx Series, Dynamite RC, multiple others
What's In The Box: Radient Ascend battery charger, instruction booklet, Tamiya to mini/micro plug adapter
Build Quality: The Ascend case is constructed entirely out of plastic and build quality looked fine.
Test Drivers: Cubby, Brian, Iron Mike
Set-up Notes: We ran it box stock, sometimes off of AC power, other times off of an external DC power supply. We only charged LiPo and NiMH cells with the Ascend.
Ease of Use: I am not a noob, but I found it very easy to use. I did not have to refer to the manual to use the Ascend, which is always a good sign. I have used chargers in the past that are impossible to use without reading the manual first, the Ascend is certainly not one of those, at least not for the seasoned rc'er.
Power: The maximum charge rate for a 2S Lipo pack is 6 amps, and 4 amps on a 3S pack. These maximum charge rates can only be reached while using an external DC power supply, not while using the Ascend off of AC power. Max AC rates are 4 amps on 2S and 3 amps on 3S, not exceptionally high, but worlds better the 8 hour wall charger you've been wanting to smash with a hammer.
Broken Parts/Issues: None, everything worked perfectly. We never experienced any overheating or any other issues with the Ascend. For torture testing I not only stood on top of the Ascend, but also purposely knocked it off my pit table 3 times, seemingly with no ill effects.
Misc Notes:
While I didn't need to read the manual to initially use the charger, I read it later and I'd recommend you do the same. The manual is well written and quite informative, perfect if you are a noob and aren't quite sure what's up.
You can wind up the AC power cord on the bottom of the Ascend charger for storage, but the entire cord and wall connector won't fit in the space provided. Speaking of cords, both the AC and DC cords are slightly on the short side, 6″ more on each would be nice to see.
The back-lit display on the Ascend is easily seen both indoor and out, Sweet!
I'd really like to have seen multiple model memories on the Ascend at this price point.
As a safety feature the Ascend will ONLY charge a Lipo that is being balance charged. This is a good thing for safety but can present a problem if the balance plug on your LiPo isn't the same type as the balance port on the Ascend. To reiterate, if the Lipo packs you own do not have JST-XH balance plugs you'll have to use an adapter board to charge them.
The stock connector is a Tamiya, which is a poor connector, but probably the connector most noobs are using. And yes, I highly recommend switching all your plugs over to Traxxas.
The Ascend is exceptionally small, a very easy fit into any pit box. I like small chargers that don't waste a bunch of space in my pit box. Kudos to Radient.
The Radient lines of chargers are available only from your local HobbyTown USA's.
---
As with all of our stuff, if you see us at a bash, stop by and check out the vehicles we have with us. We may let you take a test drive, and at the very least get you some stickers!
SUMMARY
Time To Bash – 9.5/10 – Virtually no set-up time, just plug it into the wall, plug in a battery and go! It took me less than 5 minutes to go from taking the Ascend out of the box to charging its first battery.
Car Show Rating – 8.0/10 – The Ascend looked smart and has a nice display.
Bash-A-Bility – 10/10 – Even after torture testing I couldn't foul up the Ascend.
Fun Factor – 7.5/10 – The Ascend has several mid level features that make it more fun than using a simple base charger.
Power- 8.0/10 – 4 amps on a 2S Lipo pack (on AC power) is a LOT more powerful than an RTR wall charger, but not in the same league as more elite chargers. The 6 amp rate on 2S (on DC) is high enough to charge most packs at a 1C rate. So while the Ascend isn't the most powerful charger on the market, it won't hurt your wallet nearly as much as higher output units.
Value- 8.5/10 – The Ascend is a mid level charger at a $60 price point that works solidly week in and week out, that represents a good value to me.
Big Squid Rating – 8.6/10 – Tentacles.. I really liked using the Ascend- it didn't take up any space in my pit bag, it was easy to use, and it gave all my packs a good quality charge. If you are in the market for a good charger, consider the Ascend, ours worked great.