Radient Reaktor 3500kv Sensorless 1/10th Scale Brushless System Review
THE Radient Reaktor 3500kv Sensorless 1/10th Scale Brushless System Review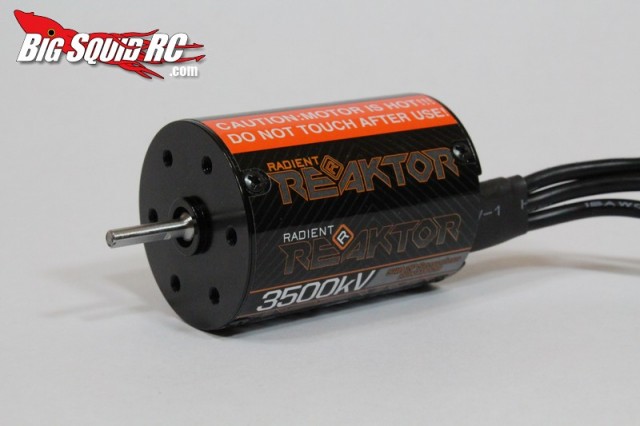 Intro- There are a whole lot of noobs out there that have been driving their brushed powered RTR's and have mastered the stock power system. When that happens, boredom sets in, and a new brushless system goes on the wish list. The crew over at Firelands Group has a new entry level brushless system called the Radient Reaktor. This 540 system should be an easy swap for RTR gear, and should instantly transform boring RTR power up to "Holy Cow this thing rips!". How does the Radient Reaktor truly hold up? Lets find out…
From: Fireland Group/HobbyTown USA, Radient RC
Reviewed by: Cubby
Pics by: Cubby
Part #: RDNA0023
Street Price: $99
Speedo Specs:
Waterproof: Yes
Amp rating: 35 amps
Low Voltage Cut-off: Yes
BEC: 5 volt, 3 amps
Motor Connectors: 3.5mm bullet
Battery Connector: Tamiya
Reverse: Yes
Cell count- 8 cell NiMH or 3S Lipo
Sensored- No
Fan- Yes, 25mm
Motor Specs:
Size- 540
Sensored- No
Kv- 3500, 2 pole
Stator- Slotless
Top Speed (measured by BSRC)- 32 mph
What's In The Box: Speedo, motor, double sided tape, zip ties, instructions, and a few stickers.
Build Quality: The speedo and motor both looked well assembled, but we were not fans of the small bullet connectors on the motor, nor the ultra-stretchy insulation on the power wires.
Test Drivers: Cubby, Brian, and Iron Mike
Test Venues: RC Outlaws in Collinsville Illinois, local city park, streets of a local sub-division, baseball diamond, and a grassy backyard
Set-up Notes: We reviewed the Radient brushless system in an Associated T4 2wd stadium truck. The truck was equipped with a Hitec steering servo, Futaba transmitter, and was powered with a MaxAmps 2S 6500 mah Lipo battery. We used a RRP 24 tooth pinion on the stock spur gear.
Ease of Use: The manual was clearly written, calibrating and changing of the minimal settings turned out to be quite easy.
Drivability/Feel/Powerband: From a dead stop, to lets say 2 mph, the Radient took off like an older Castle system. Which is to say, it wasn't buttery smooth like a typical sensored system would be, it was slightly rough, yet got going just fine. As far as the powerband goes, the low end was exceptionally soft, especially for a non-sensored system. There simply was no low end slap in the face, it was subtle and smooth. The Reaktor was so soft in the low end that it took a bit of getting used to for long time brushless drivers. The upside is the super soft low end makes the Radient exceptionally drive-able for noobs. Where as a typical non-sensored system punches you in the face off the bottom, the Radient was quite tame.
The mid-range was where the Radient really started picking up the pace offering loads of usable power, and the top end just kept on pulling with robust power till the gearing topped out.
One last note on drivability here, the Reaktor comes with a small amount of drag-brake programmed in. If you are used to driving brushed motors it will feel about right. If you are used to nitro or you are a long term brushless driver, you are used to "free wheeling" in neutral, therefore the built in drag brake will take some getting used to.
Thermalling: We didn't have any problems with heat, but, the highest ambient temp we drove the Radient in was 50 F. The highest temp I measured was 110 F, that was after 15 minutes of running in grass, which is pretty much a torture test for any power system.
Cogging: We did not experience any cogging with the Radient system.
Power: The Radient has plenty of pure power on tap, but to access it you'll need to keep the revs up. For example, because of the soft low-end, making short run doubles out of a corner can be harder than with other systems. But, in mid to high speed sections there is more than enough power on tap to make all the crazy obstacles without issue. The Radient has more than enough power to easily break the tires loose on demand, and more than enough to make monster sized jumps and pull decent wheelies.
Overall power- compared to a typical RTR stock brushed motor, the Radient has insane levels of power, but if you were to compare it to some of the other 540 non-sensored systems (on higher cells counts) it is not in the same league. Yes, the Radient has a lot of power on 2S, perhaps even more than you could ever use on a track, but no, its max power isn't in the same league as some of the other more costly systems on 4-6S. But rest assured, if you are used to stock brushed power, the Radient Reaktor will easily make your RTR feel much faster, in both acceleration and in top speed (with proper gearing). Driving our Radient powered Associated in the yard was quite the thrill, it always kept pulling, the front tires were nearly always in the air, and that big tree that was "far away" just a second ago is suddenly right in front of you.
Brakes: When used in our 2wd stadium truck the Reaktor brakes felt awesome. They weren't too strong, yet brought our truck to a halt in a hurry. In fact, out of the box, the brakes were set nearly perfect for 2wd on a loose dirt surface. However, the relatively soft brakes just weren't quite enough on high grip surfaces like pavement, and I will speculate that if you were to use the Radient system in a 4wd, they would come across as too soft.
Fit: The motor is a standard 540 unit, which should easily bolt into pretty much any 10th scale platform, and the speedo fit neatly into our stadium truck without issue. The Radient is a bit tall with its fan attached, and its footprint isn't all that small either, so in certain buggy or TC applications it may be a tight fit. If you are putting it in a stadium truck or SCT there will be plenty of space.
---
Summary:
A = Outstanding/Best in Class, B = Above Average, C = Average, D = Below Average, F = Horrific
Time To Bash: B The Reaktor comes with all connectors attached. If you are running Tamiya connectors no soldering will be needed, simply bolt in the gear, calibrate and set the speedo, and you are on the track.
Car Show Rating: C Decent looking system, especially if you are into the "murdered out" look, but not blingy enough for the old school crowd.
Bash-A-Bility: A No thermalling, no wires came off, and nothing burnt up. We experienced no issues at all with the Reaktor brushless system.
Fun Factor: C Whether you be driving on a ball diamond or the backyard, the Reaktor has enough yank to keep things interesting.
Drivability: B The Radient Reaktor was very easy to drive. Where some non-sensored systems might have their power "kick in" at exactly the wrong time, the Reaktor system was extra smooth, especially in the low end.
Power: C Compared to other 2S non-sensored systems, the Reaktor held its own. You won't find "instantly destroy your tranny power" here, but you will have more than enough for making huge jumps and digging massive trenches in the dirt.
Value: B The Reaktor has a street price of $99, which puts it towards the low end of the price spectrum for brushless systems. The Reaktor performed better than most of the systems we've driven in its price range.
BigSquid Rating: B- The Radient Reaktor is a solid motor/speedo combo that we highly recommend for moderate bashing. The price point is right, the Reaktor was easy to set-up, it proved quite reliable, and it put out plenty of usable power. Take the Radient Reaktor for a spin, you'll find it's worth the cash.