R.A.E. Conversion Kits! RC Drag Racing and RC Oval
We just got word from Roy Anderson over at R.A.E. about some new products he has ready to go! All these new kits have been through a prototype and testing phase and are ready for production. They are now checking to make sure there is enough interest before they go into full production. So if you are interested in any of these, head over to R.A.E. and put down a pre-order!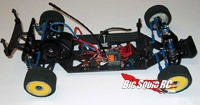 First up is the H6 Oval Conversion Kit. Following the line of Hugger Dirt Oval kits that began in 1993, R.A.E. has designed the latest version….the H6. The conversion kit is based on the Associated B3 transmission and rear suspension. The chassis features a new footprint and weight distribution along with new suspension geometry, and it is made from 3mm carbon fiber weave / graphite material.
If RC Drag Racing is your thing, R.A.E has their new RC Pro Stock and RC Funny Car drag chassis conversions. Based on two years of development these chassis have proven to have unique features that enhance the reliability and performance of the cars. Features include a built in wheelie tab and nerf wings. Traction flex technology that allows adjustment for track conditions. Roll protection that saves the axles and vital parts.
I saw the prototype version of this vehicle in action last year, and it was awesome! For all the details, and to pre-order, head over to http://www.RAndersonEngineering.com . Make sure to tell them Big Squid RC sent ya, and tell Roy I said hello.