Raging Rotors: NOT. A. DRONE.
Let me make this explicitly clear: I HATE quitters. Whether it is on the RC track, on my game of Battlefield, or even when playing Monopoly, quitting means a few things to me: You are a jerk, spoiled, or will not stand up against opposition (read: idiots). So let's just say that when major hobby companies started using the word 'Drone' to categorize their multirotors and quadcopters because that's 'what everyone calls them' (thanks 'lame stream media'), I might have lost a few years of my life from the anger.
Multirotor aircraft 'may' be considered a drone, but look at the definition. A drone is:
 

an

unmanned

aircraft

or

ship

that

can

navigate

autonomously,

without

human

control

or

beyond

line

of

sight:

the

GPS

of

a

U.S.

spy

drone.

(loosely)

any

unmanned

aircraft

or

ship

that

is

guided

remotely:
Keeping that definition in mind, and this is why the FAA is having problems putting any rules in place, any RC vehicle that flies is a 'drone,' a Hobbyzone Sport Cub S, Flyzone DHC-2 Beaver, or even a Power-Up 3.0. More importantly the conventional and commonly used definition of a drone, which has not changed until recent months, is the first bullet point. This definition brings back the all to familiar image of past rants: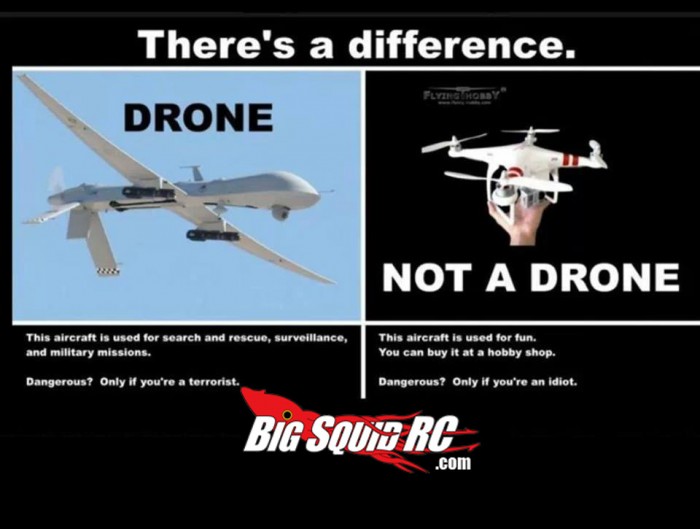 In the spirit of being fair, I will gladly accept this change, but on the condition that all RC Aircraft be called drones: on the box, in the ads, heck I better see the periodical rack with copies of 'Model Drone News' while I renew my membership to the 'Academy of Model Drone Aeronautics.'
Who is to blame for this? I ideally would love to point just one finger at the media, but it isn't entirely the news bureau's fault. The news is 'media', but it has been diluted by social network. The word 'drone' would not have carried even 10 years ago. Facebook and Twitter were shells of their current selves (Facebook was invite only or college emails), and the internet was still not found in almost every home. This situation is almost entirely the fault of social media, as it is even harder to correct the mistakes of misinformed 'experts'. It is also the fault of the aforementioned companies, who give up on educating the public.
Enough of that, on to more joyous news: the weather is warming up here in the Midwest, so I am excited to take all I have to fly outside! Keep in mind it is prime time to get your AMA membership (visit the AMA here), and always remember to fly safe!
Until next time, Stay Shiny and Keep Flyin'!