Raging Rotors Recap: IRCHA Jamboree 2014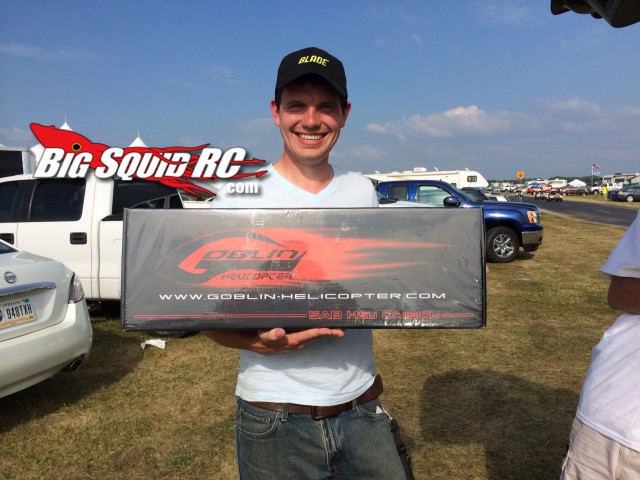 If you didn't see it already, I took a lot of pictures over last weekend when I was at the IRCHA Jamboree 2014. I even walked out of there a winner! In a lot of cases, pictures do the Jamboree justice, but there still is a lot one can talk about that the pictures can't start to describe. I thought I'd make a few points of what I saw whether it was pilots, products, experiences, or just things I wanted to point out in general. See what I have to say about it all after the jump!
First of all, I want to just compliment the IRCHA executive board for putting together such a fantastic event. Besides being family friendly, it was a full day of RC helicopter fun for everyone. Thanks also goes to all the manufacturers, vendors, and pilots who helped make this past weekend a success (and thanks Heli-Direct/Prestige-RC for the Goblin 570!).
The most impressive thing about the IRCHA Jamboree was the atmosphere. Pilots, Vendors, Manufacturers, and the Team Pilots all share the same area. Everyone is friendly and it wasn't hard to talk to anyone about anything RC. I met quite an impressive group of pro pilots including Justin Proud, Mitch Marozas, Bobby Watts (developer of Invertix 400), and others. I have never felt so comfortable talking to all these great people.
Product wise, there were a lot of favorites as well as coming products being featured at the Jamboree. Mikado was showing off their new bail-out update for their V-Bar gyro system coming in October. Horizon Hobby/Blade featured their new update for the 200QX. SAB Heli Division showed off a new helicopter and teased a new, smaller 3D helicopter. Spartan RC released at the event a new flybarless gyro called the VX1e (Post to come, thanks Spartan RC for the hook up).
Lastly, I want to make note of the grand finale of the event. Saturday night there was a 'Night Flight' competition where the pro pilots strapped dozens of feet of LEDs to their helicopters and gave everyone a show with 3D stunts complimented by the bright lights on that black night. Following was a 30-minutes fireworks show sponsored by Gaui/EmpireRC that also featured more night flying by various pilots. It was quite the sight!
If I could convince you to do one thing every year in RC, then I would ask you to stop by the IRCHA Jamboree next year and just experience the amazing time like I had.
There's still a lot coming from me this week, so keep an eye out on the homepage! Until next time, Stay Shiny and Keep Flyin'!