Raging Rotors: Time to Join the Collective…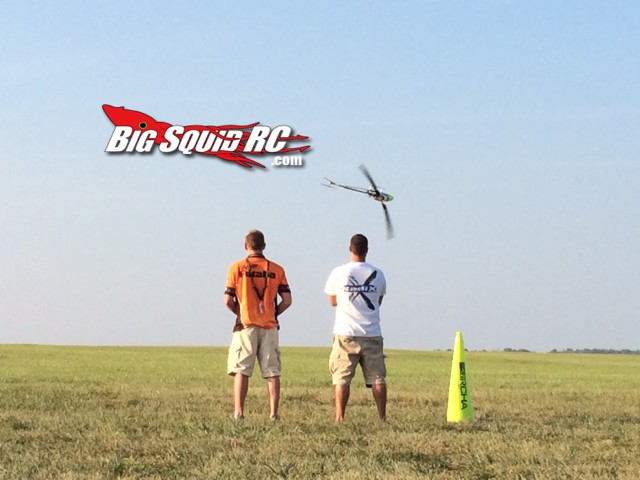 Now, I may not be a cybernetic organism, and you won't hear me say 'Resistance is Futile' all THAT often, but there reaches a point in every RC helicopter pilot's evolution where the BIG step is made: going for collective pitch aircraft and starting the path towards complete 3D control of their aircraft. An email crossed my desk from a reader (Thanks, Glen!)  looking for my take on this very step and wanted to know what options can be found on the market and what factors make a good helicopter for such an endeavor. You can see my recommendations as well as some general advice/information about collective pitch helicopters after the jump.
Now, finding a collective pitch helicopter is a tricky subject: similar to radio systems, every person will have a different opinion as what works, what doesn't, and the 'proper' way to flying, buying, etc. I will admit right now ( as I always do) that I don't have the perfect answer, and I doubt I ever will. For now, though, I will provide as much information as possible from my few years in the industry, the hobby, and from my experience as a novice pilot working hard to grow in my skill sets.
Flybar?! Thanks, but I'll have some water. Collective pitch helicopters can be filed into two categories: those with flybars for stabilization, and those without. Many of today's current collective pitch helicopters are flybarless, and use computerized gyroscopic systems (BeastX, Ikon, GPro, V-Bar, etc) to provide stabilization of the helicopter by sending signals to the servos in response to radio and external inputs. This provides precise response and flipping of the helicopter, which leads to whats called 'Smack 3D' seen at helicopter competitions and features very aggressive flight maneuvers. Flybarred helicopters have a physical stabilizing bar and paddles attached on the head of the helicopter below the main blades and work with a simple gyro to provide stabilization of a helicopter. Flybarred helicopters are a good training step for pilots as they cannot do too real aggressive maneuvers and they are slow in the inversion maneuver to allow for good practice habits, and the ability to compensate for mistakes. The other advantage is that many helicopters of this type are also easier on the wallet, so its a good step in picking up a good size collective pitch helicopter.
Go Big or Go Home? As much as that is what she said, many forums and opinions state that the bigger the helicopter, the better off your are. They aren't wrong. For any pilot I will always say the bigger the aircraft, or vehicle for that matter, the more stability and control will you have. The added bonus is almost all helicopters above the 450 size class are kits, which means you get to know your pride and joy inside AND out. For those of us working with a budget, these larger helicopter setups can set you back an easy $1000, and may not be ideal for those just making the big step. There are micros on the market: Blade Nano CPX, MCPX Brushless, 130x, (the soon to release) 180 CFX, Align 150 DFC, Heli-Max Axe 100 series to name a few. As my reader mentioned in his email, the problems in power to weight ratio for these light and small collective pitch helicopters tend to make them squirrely and hard to fly, but light on the budget both in copter and parts. The advantage I see is if you can master the difficulty of the nano- and mini-sized stunt helis, your next step of a 250+ sized helicopter will be a piece of cake to get in the air and allow for the experimentation into bolder maneuvers. Note: I do believe that the 180CFX will be a game-changer in the small helicopter market, but that will have to wait for release and review for confirmation. This size talk leads to my next point…
I love to Bash, Baby! When you look in a helicopter pilot's closet, hangar, or basement you will never find just one helicopter. Usually, it tends to be many, and they will range in size. The bigger they are, the more they cherish them, as they signify a lot of work and money to make them run and work as smooth as they do. Therefore, you usually will see them point out a more rugged looking, smaller helicopter and say something along the lines of, "Yeah, that's the heli I smack around" or, "I mess around with this one." Practice makes perfect, and the smaller and/or less expensive helicopters are the way to do it. Part prices stay low, heart rates stay low, and that all so familiar 'pucker factor' we all experience when that all too new or valuable RC gets used becomes less frequent. So your first collective pitch helicopter will be great to hold on to, not just for posterity but for having something for good ol' fashioned, low stress fun!
Hopefully this helps in your decision on your first, or second, collective pitch helicopter. As always, all questions can be sent to kevin (at) bigsquidrc (dot) com, and you will get an answer, and maybe even featured on Ask Hot Sauce which is once a month starting at the end of the month!
Big shout out to all of you supporting us at the 10th Anniversary Bash. It was great to see everyone there, sad to see my Yeti XL walk out the door with someone else, and hilarious to watch my butt get spanked by Xerxes in the obstacle course, become a target in the long jump, and get sprayed by Adam's Twin Hammers in the demolition derby. It was a great time had by all and it shows that us basher-types stick together! Thank you for 10 great years, and until next time, Stay Shiny and Keep Flyin'!