Raging Rotors: What Happens at iHobby…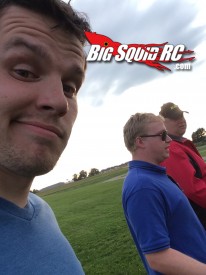 So it is iHobby week, and Cubby has already covered his reasons why you should be going to Schaumburg, Illinois this weekend. I promise not to be a broken record, but Wait, there's more!
Last year's iHobby was my first time attending; both as a patron and as a hobby shop employee. I am hoping this year is just as good as last year, if not better, and here are some reasons why:
You get to meet some of the 'little guys'. Besides seeing some local hobby shops selling their wares, there are other small businesses/manufacturers as well. I met the guys over at Rigidbot/Invent-a-part and saw first hand what 3D Printing can do for the hobby industry, which is why my shop now has two of them (plus I did a little begging with the boss).
Oh, so THAT's how it works! I can't wait to be a part of the BSRC shows this year, but that is the tip of the iceberg in demonstrations. Last year, Horizon Hobby showed us AVC for the first time, Empire Hobby continued to show how much Gaui and DJI can really show the best of the RC air industry, and KillerBodyRC showed us how to transform an XO-1 into a beautiful Corvette. "The proof is in the pudding," and demonstrations are what makes me really get a feel for the best and brightest in the RC world.
"We, the People" I never will walk away from a good conversation, and the best part of iHobby to me is the people. The manufacturers, the store employees/owners visiting iHobby with me, the distributors: they all were a great group of people to meet, talk shop, and just enjoy the company of other hobby lovers from all over the country the world. Technically, iHobby was pretty much the first day I was doing anything for the guys at BigSquid, so this year would make it a milestone for me as well.
I cannot wait for this Friday for my first day at the show, and to be doing what I do best (sell and show off) to everyone all weekend. Don't hesitate to stop me and say hi, get my autograph, or just shake my hand because if you want to talk I'll make you go deaf 🙂
I also cannot wait for the 10th Anniversary Bash this October 19th. Details can be found right here, and I will see you there!
Until next time, Stay Shiny and Keep Flyin'!