Raging Rotors: What's the German word for Liftoff?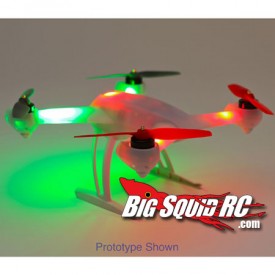 With the Toy Fair in Nuremberg already in our rear view mirror, it's important to decompress and think about everything brought to our attention and the new RC items coming in the next few months. Horizon Hobby alone announced over 24 products this past week! My head was spinning; not only from being overwhelmed, but from all the excitement I felt with every new announcement.
Let's talk about all the exciting helicopter news that was announced; granted this may be a bit redundant, but I will focus on key features as well as my personal impressions on what this means for beginning bashers and experienced flyers alike. All of these products have months before they reach hobby store shelves, so changes may happen, so my comments may not apply by the time the products come out.
Blade 200 SR X: I am a big fan of finding a great training helicopter that allows a great learning curve so frustration is the last thing that happens. With the new SAFE technology, the 200 SR X not only has multiple modes of flight, but a panic switch to reorient the helicopter and get you back flying. My only concern is the price point. I know there is a price to pay for performance and great technology, but making a training helicopter powerful using brushless motors may be a tad overkill. With companies like Ares offering a simple yet durable fixed pitch helicopter for $100 Ready-to-Fly, the $260 may be tough to swallow. I cannot wait to fly one myself so I can personally vouch on the investment.
Blade 200 QX: By standardizing the platform, Blade has found a great niche to put their line of quadcopters. For those wanting the looks of a 350 QX, but not the price tag, the brushless, SAFE powered 200 QX will be a great add to anyone's collection. I really like how the opaque fuselage brings all the lights on the quadcopter to a brilliant glow that encompasses the whole aircraft. Currently, the 200QX will only be available as a Bind-n-Fly format for $230, so at that point an investment in a Spektrum radio (I would suggest the new DX6 or DX9) would also be required. This is a great upgrade from any of the budget quadcopters already on store shelves, and will be great power in a small package.
Blade 350 QX AP: Now the Blade 350QX series is a great platform that is suitable for flyers and bashers alike. The new 350QX AP takes the stable setup of the 350QX, improves the technology and adds a controllable camera harness with an included C-Go1 sport camera  that supports 720p quality First Person View video transmission to smartphones with included hardware. With the only competition being the DJI Phantom2 Vision at $1300, the price of around $1000 for the Ready-to-Fly 350QX AP is a bit easier to swallow, but one REALLY must want to do Aerial Photography to pick up this fine machine as compared to the original. NOTE: Those already with a 350QX will be able to upgrade your tech to catch up, but no pricing or listing of changes have been released yet.
Blade 300 CF X: I'm putting this at the bottom because this is primarily for stunt helicopter flyers, but I really want to discuss this helicopter. The original 300X collective pitch helicopter is a stable platform that features the BeastX gyroscopic system, as well as a decent size at a decent price (The BeastX alone is $250, so paying $320 for the whole helicopter was not a bad setup). Blade has evaluated everyone's comments on the helicopter, and made a whole bunch of improvements, including:
Aluminum Head, Swashplate, and Blade Grips
Replacing the mainframe with Carbon Fiber
Changing the servo setup to match that of the Blade 700x (for efficient servo placement)
Carbon Fiber Main Blades
The helicopter is being sold as a Bind-n-Fly Basic (Helicopter only; no battery and no charger) for $400. This is definitely for the expert pilot groups only, but I couldn't miss talking about this great helicopter platform. More details can be seen on Blade's website by This Link. I have a 300X myself, and can't wait to see what I can do to upgrade it using 300 CF X parts.
Quick side note: Wednesday (2/5) on ABC was a new Modern Family episode that features what looks like a DJI quadcopter featuring a FPV setup (check local listings for air time, or stop by Hulu). I always love seeing the hobby on TV, and I haven't seen anything since the Blade MCX2 on a recent Nutella commercial.
As always, it's a pleasure talking helicopter, and already cannot wait for next week. The clock is counting down towards the 2014 Quadcopter Championships so get your quadcopters ready, or stop by your local hobby shop and pick yours up. Details about the event can be found here.
Feel free to visit me any weekend at my local haunt and I'll demo every great quad there is to offer on our shelves.
Enjoy this week, and for many of you stay safe as we get battered with more snow. Until next time, Stay Shiny and Keep Flyin'!