R/C Around the Web – If you never hear from me again, know that I went out screaming like a little girl… edition
Photo of the week:
It's another quickie this week as I wait to catch my plane back home after three weeks of fun in the sun sweating my ***** off in California doing some Navy stuff and learning about sheet metal.  Here's what I made: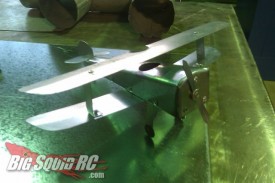 Build log: Ultimate scrap build – Jumping into the wayback machine for this one, it's just that good.  Taking junk from around the house and making a large-scale car out of it.
Shameless self promotion: Axial XR10 Review – Shorter review: It's awesome, buy it.
Tech Article: Fuel myths… All you should know about RC Nitro Fuel! – Our buddy at MyRCBox.com gets Byron Fuels to bust some myths about our favorite (well, not Cubby's favorite…) form of liquid energy.
Video of the week:
NONE! I looked and looked and didn't see anything that was worthy of the illustrious Video of the Week award.