R/C Around the Web – No Linkation without Representation edition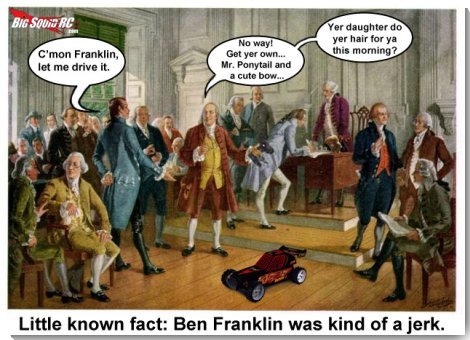 I read and watch a ton of stuff on the internets every day. Some of that stuff I end up liking a lot and bookmarking for later. This new weekly feature highlights those links.
Build Log: Dumas 19′ Racing Runabout – This will be one to keep an eye on for a while. It's going to be a long project from the looks of it.
Photo of the Week: Disco's red hot ride. Forum member and comedian Desmond "Disco" Dailey show's off his current drag car project. You might have to scroll down a bit if your browser doesn't take you straight to the post.
Shopping Around: Save some cash, spend it on other stuff… – Check out my previous article about some of the ongoing rebates in the industry.
Video of the Week: Disassembly – A cool parts explosion animation of a non-descript R/C helicopter. The guy made it for his demo reel to show off his computer animation skills.
More Video: The Radio Control Show, Episode 45 – Info about RCX, the HPI Blitz ESE, Florida Jets event coverage, Aeroworks P51 Mustang ARF, new Kyosho products, Off-Road Shootout Sweepstakes grand prize RTR Baja 5T, HPI Vorza giveaway.
Even More Video: RCX 2010 Live Cams – Can't make it to RCX this weekend? Well you could always sit at home and watch live streams, I mean, that's almost just as good right? Am I right? Hello?. Three different streams are available, one showing the vast show floor, another showing off-road action on the dirt track, and a third mobile cam that will have interviews and product demos.