R/C Around the Web – Support Your Tracks Edition
Photo of the Week: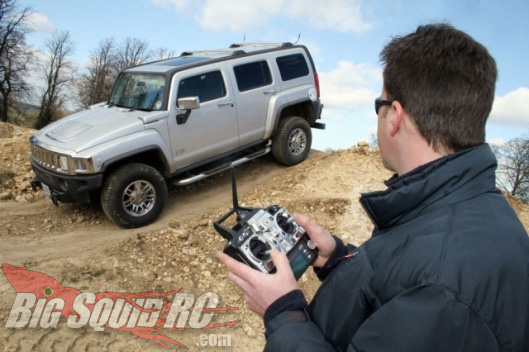 'Full Scale RC Hummer' by GizMag.com
While there isn't a lot of info on the GizMag.com site except that they took a new Hummer H3 and one month to convert it to RC, there is almost no other information except that it 'handled well'. Lots of people have done full scale RC but whenever you see someone convert a full scale car to RC, it's never anything good. It's always some piece of junk. Converting a truck that might actually handle some action would be something to see! Heck, get a stadium and a half-a-dozen of these things and lets bash!
RC Track: – First City Owned RC Track – – Trackseekers , grand opening happening soon!
Cool Link: USATRUCK.NL – Tons of huge Peterbilt rc semi trucks. They have pictures, videos, and even a jet powered truck! Can't really read it because it's in Dutch I think, but some cool pics and videos.
Build Link: Huge RC Monster Truck Build – Guy builds a pretty big RC truck with golf cart wheels. Has some serious suspension, and videos!
Shameless Self Promotion: Contest! Don't forget to enter to win!
Video of the Week:
Now this is a JetTruck! The flame coming out of that thing is insane! The fact that he drives it around and near those people?! I would of been running for my life! I think I have a new project for Bill that we could use for iHobby next year!
I had video of the RC Hummer in action, but it never went much over 10mph. You can see that video HERE.
I just wanted to end with a little about winter and RC. There are not a lot of places to run indoor RC, and in our area when then temperature is below zero, it's nice to go indoors and bash! If you have a local indoor track, make sure to go support it this winter. Those guys are usually hurting all summer long, and depend on the winter crowd to keep them going!