RC Car Action/HPI Racing Race for a Cure coming up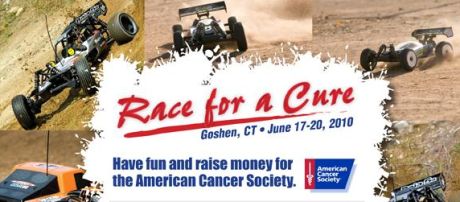 The RC Car Action/HPI Racing Race for a Cure event will is coming up next week.  Being held over Father's Day weekend (June 17th – 20th) at the Goshen Fairgrounds in Goshen, CT, this event is going to be raising money for the American Cancer Society so they can keep up the good work of trying to find a cure.  There's going to be racing classes for 1/10 scale short course, 1/8 scale nitro buggies and truggies, and 1/5 scale buggies and trucks.  The entry fee is $30 for the first class and $25 for each other you wish to enter.  2.4 GHz radio gear and a personal transponder are required.
For more info be sure to check out this forum thread on the RCZone forums.  You can download a PDF version of the entry form by clicking this link [PDF].