RC-Lights.com microBRAKE 6 LED Controller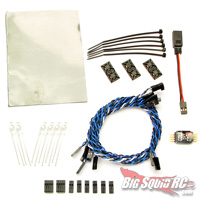 New from our friends at RC-Lights.com comes the microBRAKE 6 LED Controller. With this controller, LED's can be directly powered from the throttle with the included RX Pass-Thru. Dual intensity brake light action is built right in. (We liked this feature a lot!). The LED's are split into two banks, 4 on, and 2 switched to dim/full bright with the throttle.
We have reviewed RC-Lights kits in the past, and we really dig them! I like the fact that they support products like RPM canister sets as well!
Check out the RC-Lights.com Website if you are looking to add a little more realism to your ride!