RC Monster Truck – Bash-A-Palooza Event Follow Up

Wow, what a great event! First off, I would like to thank all the awesome companies that helped provide prizes for the event!
HPI Racing, Duratrax, Parma, O'Donnell Racing, XXX Main, and ofcourse Leisure Hours Hobbies!
I would also like to thank John (from Leisure Hours Raceway) for doing an awesome job on the microphone, also Bill (Firesprink281), Chris (thenewguy812), Jodie, Josh (xirtic), and everyone else who helped make the event happen.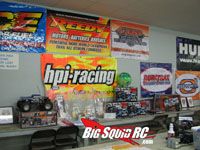 One of the coolest things about this event was all the different types of RC'ers that made the trip out to the event. We had the die hard bashers, a bunch of newbies and even pro-driver Tim Mohr! Most of these people have never even set foot at a race rc race track, and I think a lot of them will be back. We saw both nitro and electric trucks, with all sorts of makes and models, and towards the end of the event we had over 50 spectators enjoying the long jump action! This was cool for 2 reasons. 1) It's a ton of fun as a driver to hear a big crowd of people 'Ohh-ing' and 'Ahh-ing', and B) A lot of these people got to see how fun RC can be, and will hopefully go out, buy some vehicles, and get into the hobby. I know I had several people ask me about specific trucks, and advice one what their first should be.
The first event was the monster truck obstacle course. (See the video after the read-more) The course consisted of some wooden whoop-di-doo's, a big jump, some smaller ramps, a slalom, and the final table top challenge. I honestly didn't think the table top was going to be as difficult as it turned out to be, but it sure did keep things exciting! The final part consisted of a split ramp and split table with two orange cones on the end. The first truck to run the obstacle course and touch one of the cones was the winner for that round. We ran a bracket style race with each section running for the best 2 out of 3.
After the obstacle course, it was time for RC Monster Truck Soccer! We had a nicely decorated ball (thanks Mini Squid!) and with a little work, we were able to work out the frequencies so that everyone who wanted to participate in the soccer event was able to do it at once! This proved a little insane! We every r/c monster trucks all on the field at once, all supposedly trying to get the ball into their goal. I say supposedly because most of the pile ups we no where near the ball! 🙂 The red team won with a sudden death goal!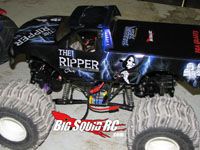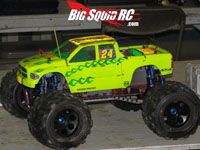 We then went inside to draw the raffle prizes and allow people to make repairs before the death long jump competition. I can't thank the event sponsors enough! We had some of the greatest prizes an event like this has ever seen! We had a HPI Savage XL, a Duratrax RT-X 27, and 3 (yes three!) HPI 4×4 Wheely Kings, t-shirts, banners, tools, temp gauges, bodies, dvd's, and more!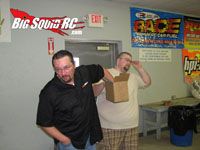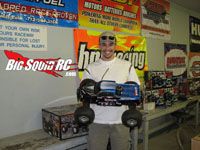 Pro-Driver Tim Mohr and John did the ticket drawing for the event, and we made sure that everyone that attended walked away with a prize!
We also had plaques for the winners of the long jump,obstacle course, and winning goal!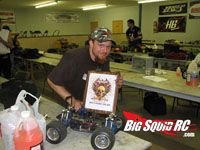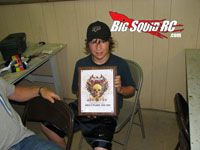 Last up was the LONG JUMP! The ramp was huge, and this truly was a 'Go Big, or Go Home!' event!
We are talking SERIOUS air here! Easily 40 feet high, and over 65 feet distances! Many trucks survived to make two passes, and the crowed showed their appreciation with cheering the brave drivers on!
The weather was perfect, everyone told me they had a great time, and are looking forward to the next one, and a lot of people got introduced to the world of RC. You really can't ask for better than that!
If you didn't make it out to this event, I hope to see you out at the next one! Thanks to everyone who came out and helped make the day special!
Keep an eye on the Big Squid RC news page for details! If you have any suggestions for events you would like to see, drop me an email!
Tons more pictures AND videos of the event after the jump:
There is also a HI-DEF version of the video Located HERE! Right Click/Save As. You'll need Quicktime or a mp4 codec to play. WARNING: It's about 35 meg!
There is also a HI-DEF version of the video Located HERE! Right Click/Save As. You'll need Quicktime or a mp4 codec to play. WARNING: It's about 55 meg!