RC News Writers Wanted!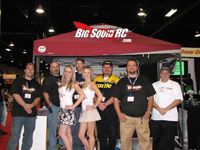 Big Squid RC is still growing leaps and bounds, and while we have been doing a pretty good job of bringing you all the RC news you want to know about, we can still use some help.
If you are one of these people who loves to talk in the forums about the latest RC news, or search the web for new products, maybe we need you!
If you know a little about web pages/html, picture editing, (a little writing talent wouldn't hurt, but if you are a reader of the site, you know it's not really a necessity.) We currently have enough specialty writers (cubby, slash report etc.. ) but are in need of someone to help keep up with the daily news. Having some contacts in the RC industry is a plus, but not a requirement.
If you are interested drop us an email, maybe give us a small example, and we'll go from there. If you are in the Chicago area, there are some good perks like driving the latest RC vehicles before they are released to the public, and all the stickers you could want! 😉
Thanks for reading!