RC Pro 2009 International Finals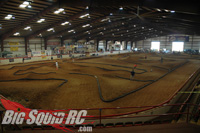 Some news from theRC Pro Series.
The 2009 International Finals will be held on the same weekend we have used now for the 6th year (2nd weekend in November) and at the same location we have used now for 3 years – The Diamond W Arena in Alvarado Texas.
November 3rd-8th, 2009.
This years schedule will be much the same as in the past with the exception of the banquet on Sunday. More and more people have used Sunday as a travel day and have not been attending the banquet so this year we will do the awards during the after party on Saturday night to free up Sunday as a travel day for the racers and tear down day for us.