RC Pro Announces RC Pro Products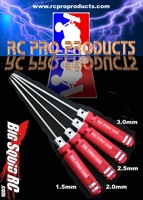 RC Pro has just announced RC Pro Products. Their own line of branded tools and accessories. Their first products include 1.5mm, 2.0mm, 2.5mm, 3mm hex driver, #2 Phillips screwdriver, 4mm flat blade tuning screwdriver, flywheel tool and a combination tool.
All drivers and screwdrivers come with red anodized and knurled aluminum handles with hardened steel shafts. RC Pro members will receive a 20% discount! Head over to the RC Pro Products site for details.