RC Pro Products 17mm Wheel Wrench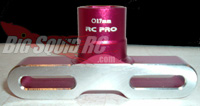 The tools just keep coming from RC Pro Products. Check out the handle on their new 17mm wheel nut wrench! Those suckers are gonna be locked down! The handle also has a hole so you can get to those grub screws!
Check out the RC Pro Products web page for more details.