RC Pro Products Brings Tanner Hagler Aboard.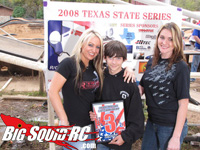 The folks from RC Pro Products has just announced that Tanner Hagler is their newest team driver. Tanner runs in the South Pro Buggy and Arena Truck classes.
Personally I think they picked him up so he keeps bringing the girls with! 😉
For more info, make sure to check out the official RC Pro Products webpage.