RC Pro Products Manifold Spring and Exhaust Kit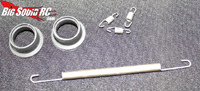 RC Pro Products now has their manifold springs in stock to complete the exhaust kit as well as offer single springs.
The manifold springs wrap around the engine and secure the manifold to the engine and is stainless steel.
The Exhaust kit includes the manifold spring, 3 small springs to hold the manifold to pipe and 2 exhaust gaskets. All springs are stainless steel.
Drop by RC Pro Products to check it out!