RC Pro Products – Power Driver Bits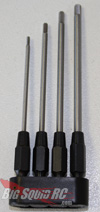 New from RC Pro Products are these power driver bits. It's a 4 bit set that comes with 1.5, 2.0, 2.5, and 3.0 mm sizes. Right now they are only metric but it's a good start. Using a power driver is all the rage lately with the amount of work needing to be done on 1/8th scale vehicles, people's forearms just can't take all the abuse of doing it by hand. Especially with a full chassis upgrade!
Check out RC Pro Products for more information.