RC Pro Products Teams Up with Big Squid RC!

Here is the latest Big Squid RC Contest news! Along with all the great prizes so far, we will also have a bunch of great stuff from RC Pro Products!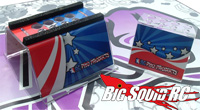 We will be giving away shock rebuild stands and car stands with wraps, tuning drivers with pit mats, a tool set with bag, phillips and metric drivers, flywheel wrench, and a tool not even announced yet!! How sweet is that?!