RC Pro Series News! (1:8 Electric Buggy and Slash Info)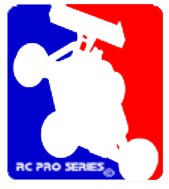 Some news from the folks over at the RC Pro Series. Due to overwhelming demand RC Pro will offer 1/8 Electric Buggy in the National Series for 2009. These will run at the Nitro Offroad tracks and score National Championship points. Class rules are in the 2009 Nitro Offroad rule book.
Also:
RC Pro and RCSignup introduce the National Championship Club Series! The series is designed to bring more interest to local club racing. The industry has had a large number of tracks closing because of less club racing so we are trying to develop something to help boost club racing. This series also will interest those racers who only race local and don't travel.
*Any track in the US can signup* as long as they run the Slash spec class and have electronic scoring. Tracks can schedule 6 club events through out the year that will score National Points. *No cost to the tracks!*
*Any racer can enter* and score points at any track in the series. Each racers best 4 races will count. No traveling to a National Final event, just race locally and have FUN!
*No membership fees for the racers!*
We have designed the NCCS website so tracks can enter each race results and the site will automatically calculate the points and display the standings for each track plus the national standings.
Year end awards for the top 20 Nationally.
For the full info on the series go to http://rcpro.rcsignup.com/nccs